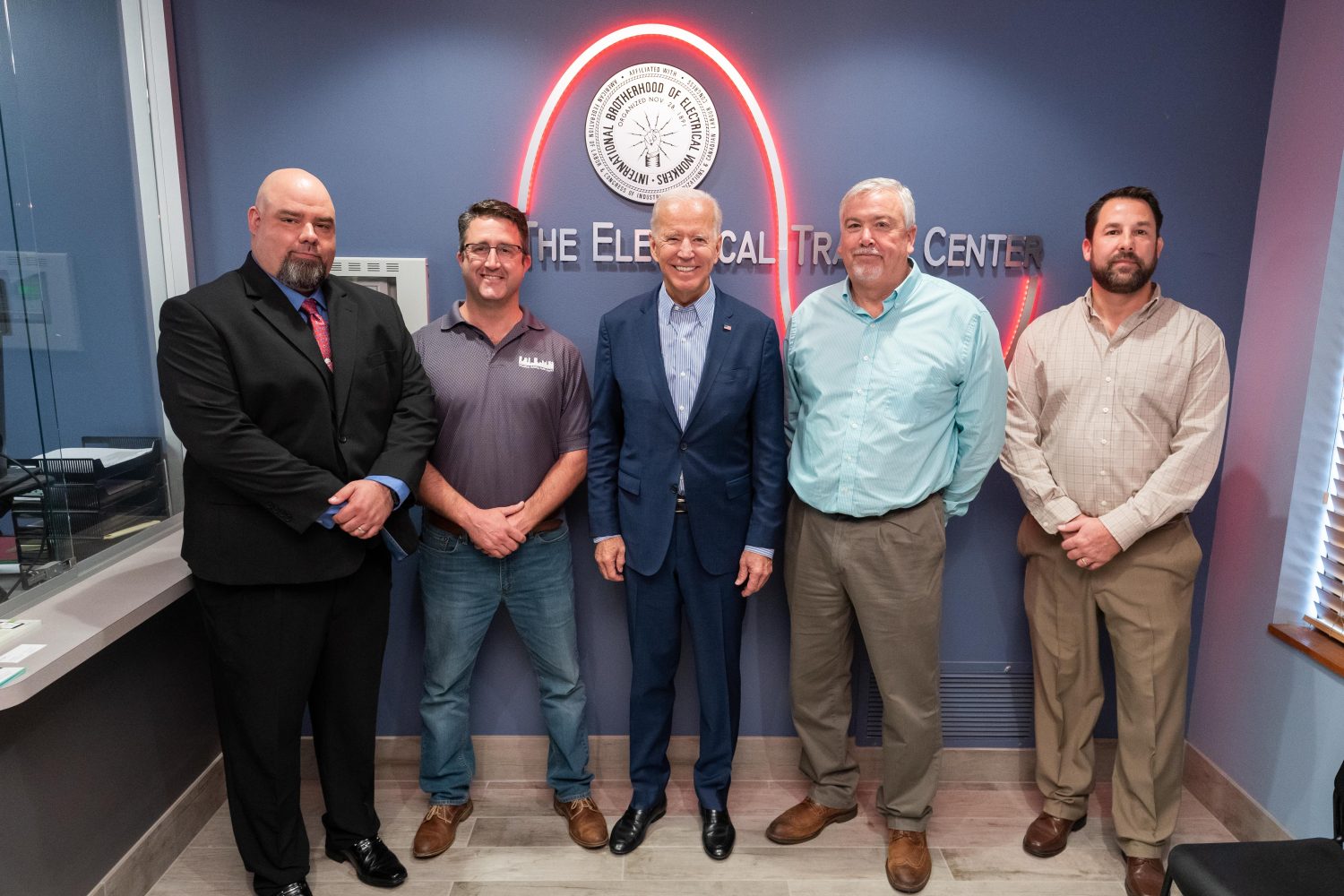 Democratic Presidential Primary candidate Joe Biden tours Electrical Trades Center
The Electrical Trades Center was honored to welcome 2020 Democratic Primary presidential candidate Joe Biden to our facility.

Following the Democractic Presidential Primary debate at Otterbein University in Westerville, Ohio on Oct. 15, former vice president and 2020 Democratic Primary presidential candidate, Joe Biden, stopped by the Electrical Trades Center in Columbus to tour the facility.

The ETC tour was guided by Business Manager/Financial Secretary, John E. (Ed) Moore, Training Director William Thompson and training instructor Trent Parker.

Biden, a longtime proponent of organized labor, saw firsthand how the Central Ohio state-of-the-art training center provides a no-cost education to the region's men and women who want to become electrical workers.

Raised in Scranton, Penn., a blue-collar town, Biden learned about the earn while you learn model, which puts apprentices on a pathway to live a middle-class lifestyle.

Although the International Brotherhood of Electrical Workers (IBEW) has not formally endorsed a candidate for the 2020 primary, the IBEW endorsed President Barack Obama during the 2008 election and again in 2012.

Included on Biden's 2020 campaign website is a plan for strengthening worker organizing, collective bargaining and unions.

In his plan, Biden promises to support federally Registered Apprenticeship Programs, encourage and incentivize unionization and to sign the Protecting the Right to Organize (PRO) Act.

Due to the ever rising national student debt, Biden laid out his plan to help people obtain a no-cost education and fill the jobs lacking workers.

In Biden's after high school education plan, he promises to provide $50 billion in investments for workforce training. Portions of these funds will go to unions, who operate time tested registered apprenticeship programs.

According to the website, these funds will help to increase the number of apprenticeships in the U.S. by strengthening the registered apprenticeship programs and partnering with unions, who oversee some of the best apprenticeship programs throughout our nation.

Biden, like many of the other Democratic candidates in the running for the 2020 Democratic presidential nomination, is hopeful he will receive the endorsement of the IBEW and other international building trades unions.